Moulton Village Festival
The Folk Concert at the 2017 festival marquee (Fri 19th May 8pm) will feature:
GREG RUSSEL & CIAREN ALGAR (BBC FOLK AWARD WINNERS)
KITTY McFARLANE * THE PRINCE OF WALES RATTLERS * THE DOUGHBOY 3
£12 in advance £15 on the door (if space) * licensed bar
01604 646818 to reserve tickets
Every year in mid May, Moulton Village hosts its annual Village Festival. Moulton Morris have always been closely associated with the ancient custom of crowning a May Queen and every year Morris sides from all over the country arrive to decorate the May Cart with flowers and form the procession round the village up to the crowning ceremony. In addition, there are stalls, concerts , dancing displays and other activities throughout the weekend. Here are some pics from this year's fest. Thanks to all the sides that visited , danced, played in the band and pulled the cart.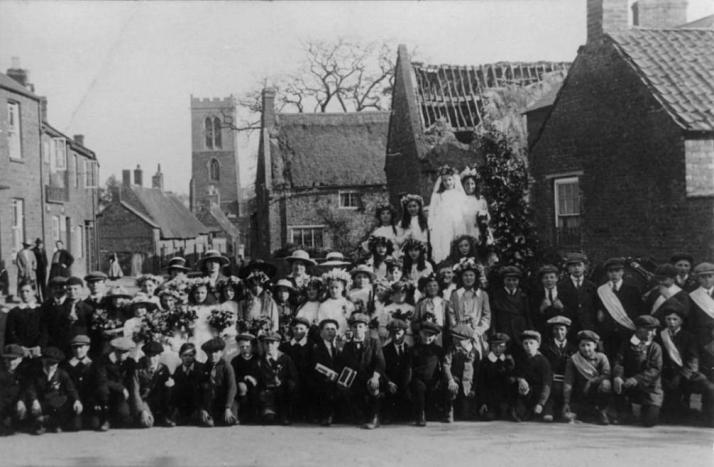 Moulton Maycart in the early 1920's
Moulton May Queen, 2016 (Photo: John Savill)
The procession sets off
Musicians lead the procession into the gardens
The new May Queen Lydia is crowned by the retiring monarch Amyy..and the children's bowers are added to the maycart
Strange creatures start to appear outside Moulton pubs..
The Maycart sets of again and heads up the Carnival procession
Our guests: Saddleworth Morris Men (photo Andy Simons)
Monkseaton Morris Men (Photo: Andy Simons)
King Johns Morris Men (Photo: Andy Simons)
Thaxted Morris Men (Photo: John Savill)
Adderbury Village Morris men (photo: The Poplars Hotel)
And finally.. some pics of the Moulton Morris Men at the festival this year:
(photo: Andy Simons)
photo: Andy Simons
: