Moulton Village Festival
Every year in mid May, Moulton Village hosts its annual Village Festival. Moulton Morris have always been closely associated with the
ancient custom of crowning a May Queen and every year Morris sides from all over the country arrive to decorate the May Cart with flowers
and form the procession round the village up to the crowning ceremony. In addition, there are stalls, concerts , dancing displays and other
activities throughout the weekend. Here are some pics from 2018's fest. The 2019 festival will have seven guest morrris sides:
Rose & Castle, Belle D'Vain. Chinewrde, Brackley, Queen's Oak, Windsor & Northampton.
Headlining the Folk Concert on Friday are Chris While & Julie Matthews.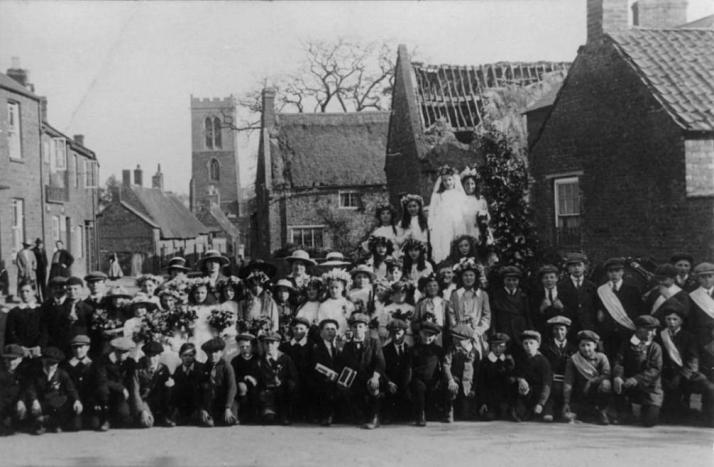 Moulton Maycart in the early 1920's
Moulton May Queen, 2019
The maycart procession comes into the gardens
the crowning!
The new May Queen's procession makes it's way round the village
Our guests - Windsor Morris
Our guests - Brackley Morris Men
Our guests: Belle d' Vain Morris, from the Vale of Evesham
Our guests: Queens Oak Morris from Pottersbury, Northants
Our guests: Rose & Castle Morris Men from Stoke Bruerne, Northants
Our guests: Chinewrde Morris from Kenilworth
Moulton men dancing on Sunday
Another from Sunday
Moulton Musicians : The Wall of Sound
(
: